Middle Level Choral Institute for Teachers
Guest Clinicians
I want to see your heart in your eyes, and hear your heart in your voice. - Anton Armstrong
Dr. Anton Armstrong
Anton Armstrong is the Harry R. and Thora H. Tosdal Professor of Music at St. Olaf College and Conductor of the St. Olaf Choir, a position he assumed in 1990. A graduate of St. Olaf College , Anton Armstron earned a Master of Music degree at the University of Illinois and the Doctor of Musical Artss degree from Michigan State University He serves as editor of a multicultural choral series for Earthsongs Publications and co-editor of the revised St. Olaf Series for Augsburg fortress Publishers. He has conducted the Troubadours, a 30-voice boys' ensemble of the Northfield Youth Choirs since 1991. He serves on the Board of Trustees of the American Boychoir School . He began his tenure as founding conductor of the Oregon Bach Festival Stangeland Family Youth Choral Academy in June, 1998.
Dr. Armstrong is active internationally as a conductor and lecturer throughout North America, Europe, Korea , Scandinavia , Singapore , Australia , New Zealand,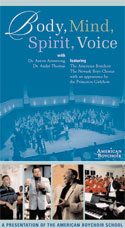 Venequela, and the Carribean. He led the St. Olaf Choir on a Concert tour of Denmark and Norway in 1993 and in 1997, he conducted the ensemble in a four-week concert tour to New Zealand and Australia . In 2001 he guided the St. Olaf Choir on a tour of Central Europe , and a return to Norway in 2005. Also, in 2005 he conducted the St. Olaf Choir before President and Mrs. Bush at the White House, and performed for national ACDA.
Dr. Armstrong is the 2006 recipient of the Cherry Award, the most pretigious award of its type in the nation. During 2006-2007 Dr. Armstrong will serve as conductor of the North Carolina Jr. High Honors Choir and 2007 Texas All-State High School Mixed Choir. The attention he gives the middle level voice demonstrates his love and interest that students learn to sing well from an early age. His career continues to inspire the choral profession in conducting, literature, and exemplary teaching. In collaboration with Dr. Andre Thomas, the DVD, Body, Mind, Spirit,Voice has recently been released.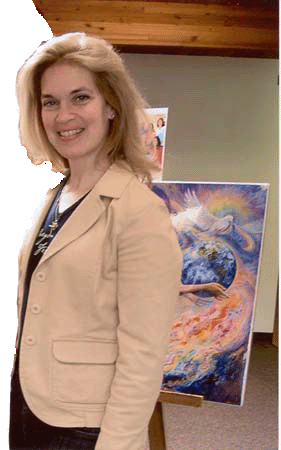 Sing with your body, dance with your voice! - Therees Hibbard
Dr. Therees Tkach Hibbard
Dr Therees Tkach Hibbard joined the faculty at the University of Nebraska in Lincoln in the fall of 2005. She was previously Senior Lecturer in Music Education in the School of Education Studies at the University of Surrey-Roheampton in England . She teaches a variety of music and music education courses with a particular expertise in choral training, choral conducting, singing and vocal development, and is the Program Convener for the MA in Choral Music Education. Therees has worked as a music teacher, choral conductor, and singing instructor at all levels of music education: nursery, primary, secondary, college, university, and adult professional instruction. She has conducted choirs ranging from young children to professional singers; and has served as adjudicator, workshop leader, and guest conductor for numerous choral organizations throughout Great Britain , Ireland , and North America . She continues to work as a professional singer in the Oregon Bach Festival Chorus under the direction of Helmuth Rilling. She also teaches movement with the Oregon Bach Festival Youth Choral Academy .
Dr. Eric Mentzel
Eric Mentzel serves as Associate Professor of Voice at the University of Oregon . He holds a Master of Fine Arts degree in early music performance from Sarah Lawrence College in New York . He has appeared at major festivals and concert venues across Europe and as far as Japan and Australia . He has also worked closely with some of the most highly regarded early music ensembles such as Sequentia, the Ferrara Ensemble, and the Huelgas Ensemble; and he has appeared on more than 40 CDs for Sony, Decca, BMG, Harmonia Mundi, Arcana, Opus 111, Raumklang, Naxos , and Capriccio. His recordings have been awarded the Preis der deutschen Schallplattenkritik (German Grammy), the Diapason d'Or de l'Annee, and the Choc de Musique (French recording awards).
Singing is a fundamental skill for all musicians. Instrumental teachers should incorporate singing into the daily routine used in all classes of beginning instrumentalists.- Jeff Williams
Dr. Jeffrey Williams
Jeffrey Williams is currently Associate dean for Undergraduate Studies and Professor of Trombone at the University of Oregon School of Music and Dance. He has been on the School of Music faculty since 1980. He holds degrees from the University of North Texas and the University of Illinois . Dr. Williams has been principal trombone of the Eugene Symphony since 1980 and a member of the Oregon Bach Festival Orchestra since 1981. He has taught at Miami University , Southwest Texas State University , and in the public schools of Garland and Richardson , Texas .
I believe every child can sing! Susan Darrington
Susan Darrington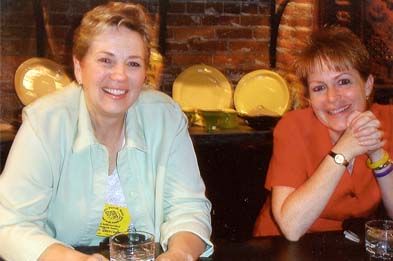 Susan Darrington (Left)
Susan holds a Masters degree in education from Black Hills State University and a Kodaly Certification from the BYU School of Music . She has 15 years experience in the music classroom. In 1999 Mrs. Darrington received the Presidential Scholars Outstanding Teacher Award from the U.S. Department of Education and has been named three years in Who's Who Among American Teachers.
She has directed and/or choreographed numerous school and community productions including: Wizard of Oz , Oliver, Saturday's Warrior, Up the Down Staircase, Dracula, Winnie the Pooh, Snow White and the Seven Dwarfs, Fiddler on the Roof, Oklahoma, Cinderella, The Order is Love, and You're a Good Man Charlie Brown. She teaches choir and drama at McLoughlin Middle School in Pasco , Washington , and directs the Three Rivers Children's Chorus. In addition she she conducts her church choir and sings for fun in a group called Girls Night Out. Susan is married to Richland City Manager, John Darrington, and they have seven children and ten grandchildren.
---